$34.95 USD
Ships to: USA & internationally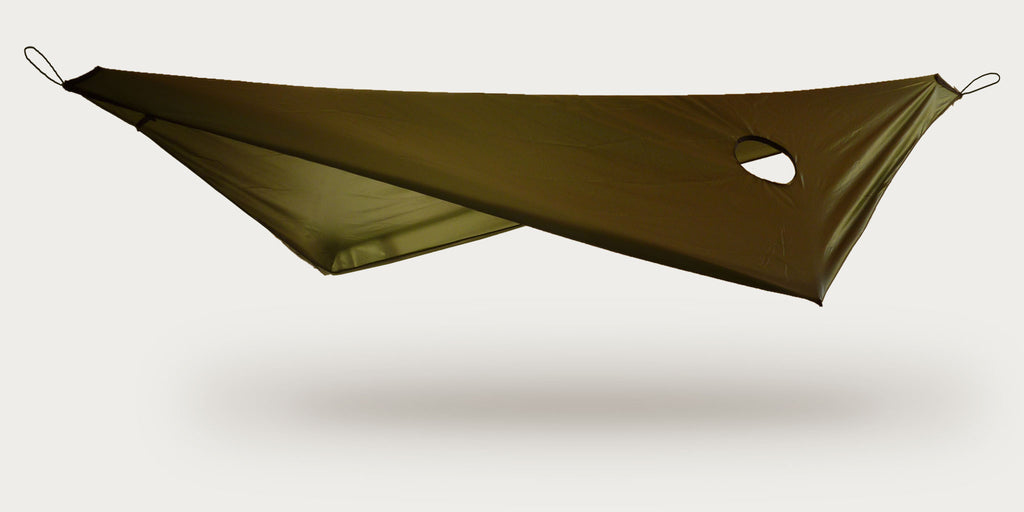 Description
The OverCover is an accessory for the 4 Season SuperShelter. The OverCover is uncoated 30D nylon with a breathing hole which fits over the mosquito net. It is intended to maintain warmer temperatures inside the shelter during dry, sub-freezing conditions.
Fresh air is available through the air hole near the occupant's face. Changing position in the hammock acts as a bellows and automatically pumps fresh air into the air hole.
Condensation which may form on the inside of the breathable OverCover will wick through the uncoated nylon fabric and evaporate into the dry air moving between the OverCover and the rainfly. The OverCover may also be released on one side and tucked between the netting and the OverCover on the opposite side to expose half of the netting and to help block wind from one side.
OVERCOVER #1 is for EXPEDITION, BACKPACKER, and HYPERLITE

 Overcovers only work with Classic Velcro style hammocks
Specifications
Seasons: 4-season
Color: Green
Size: 3" larger perimeter than mesh
Packed Weight: 3.5 oz. / 100 g
Packed Size: 2" diam. x 5" long
Support
OverCover #1 fits the EXPEDITION, BACKPACKER, and HYPERLITE hammocks.
Video: OverCover set-up - Note:  there has been a small design change to the overcover installation.  This video shows longer elastics attaching farther up the rope to the large rainfly tensioning hooks.  The improved design attaches a smaller elastic at the end of the undercover to the same glove hook that the undercover attaches to.  If you have any questions, don't hesitate to call.
Need help? Have any questions?
Call us if you need help deciding on the right hammock model for you. We're here between 9 and 5 Pacific Standard Time Monday - Friday at 001 250 539 2930 — or email us.
Our handy hammock comparison chart can help you make a decision based on specifications.
Why order from Hennessy Hammock?
Expert advice
Legendary service
Quick replacement & warranty support on the trail
Free accessories!
International Shipping
This store ships to the USA and most of the world, except as noted below.
For EU orders please go to our EU store.
For Canadian orders please go to our Canada store.
For UK orders please go to our UK store.
For Australia and New Zealand orders please go to our Australia store.
You can also select your store from the flags at the top of this page.